with the new epson ET4700 printer my spirit of research and curiosity was awakened! from time to time i like to print photos just for own pleasure to see them hanging on the walls. from my old printer a couple of HP photo papers are left and i gave it a try and printed some photos. i'm using turboprint with linux which is able to apply color corrections on paper types. each paper type has its own color profile which might be already included in the turboprint driver. the HP paper profile was not included. so i had to create a new profile for this paper type type. and with this all begun …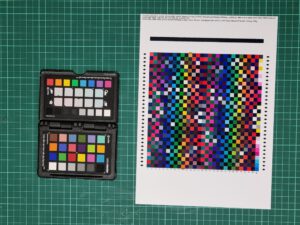 without having a dedicated color profile for the HP advanced photo glossy paper the color of the prints came out really awful. that's way i wanted to create a dedicated profile for that paper. turboprint offers to create different types of paper profiles: a universal profile, a studio profile and a black and white one. i'd like to see the difference between universal and studio profile. and of course, when i already create profiles why not even to look at different types of paper as well. so i wanted to see the famous hahnemühle papers. luckily they sell a sample pack with 5 types of their paper which is nice for some try outs. in addition, i stumbled on the hahnemühle luster paper, which is as a classic photo paper. this should be included for testing as well.
except for the fineart smooth paper in the sample pack, i had to order paper profiles first. the color charts needed to be printed with turboprint and sent them to the color profiling service. i got the profiles by email only one or two days later and installation was done in a second. the test prints for comparison can be printed now …
compare the prints
difference between universal and studio profile
the hp advanced glossy photo paper was the choice to look closer on the difference between a universal paper profile and a studio profile – and i think 🤔 i'm able to see the difference here. in general the studio profile seems to have the overall more accurate colors. for the colored parts in the sample i would say that these are more vibrant when using the universal profile but accurate enough. but it is different for the black&white parts. you can see it when using the universal profile. the black&white sample image is a little bit more red-/greenish. it does not really look like a black&white. same is visible if comparing the gray patches.
summarizing, i would say if accurate colors are needed and especially if a black and white image should be printed, i would go for the studio profile. nevertheless, i do not really like the hp paper so much because of it's surface. it feels a bit sticky to the fingers if they are sweaty. means, not useful if photos should be handed around.
hahnemühle paper
i printed the hahnemühle photo rag ultra smooth paper with the in turboprint included profile. from all test prints, i like this sample most. the color contrast is high and colors are nice and vibrant – and black is black. in my opinion this print comes very close to the original source file. a down side here is again the black&white sample images. there is a greenish tint which i do not like at all. i guess this is related to the color of the paper itself. this might can be corrected if using a dedicated studio profile. there is also the option to measure directly for a black and white profile by the way. the paper is not glossy and feels really soft, nice and valuable. as nice this paper feels in the hands i wouldn't give it into too many hands.
if i would need prints for giving it to a lot of people i would now choose the hahnemühle luster paper. the paper surface and structure doesn't feel sticky at all. even if humidity is a bit higher or hands are sweaty. for this paper i got measured a studio profile. the colors are not as vibrant as seen in the hp using a universal profile or in hahnemühle fineart smooth paper. but comparing now both hahnemühle prints together, the black&white sample looks far better on the luster paper using the studio profile.
… and last but not least – plane paper
should plane paper be used for photo prints at all? 😅 as you can see, the image very faint, colors are not vibrant at all. because it is most times thinner than photo paper, it became already somehow wavy. however, for a quick print – why not, but it is far away from photo quality.