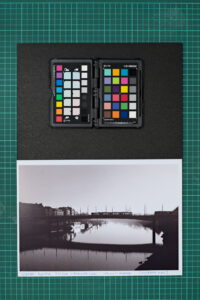 is printing black&white photos the high class of prints? i really like looking at b&w photos on the computer but i want to print them as well. i'm fine today to print them to maximum size of A4 – just for interest how they look like. later i could imagine to do larger prints. so, let's have a lock how good the epson ET-4700 prints black&white.
say it in advanced, … today i'm not quite convinced that i'm able to print high quality black&white after judging the results! 😞
what do we have? i printed on different types of paper with different variants of color profiles. the print on the hahnemühle smooth (which is actually hahnemühle fineart photo rag bright white 310g paper) has a really nice contrast but unfortunately it has a greenish tint. i used here the included color profile, which might be a reason why it looks like as it is. the paper itself feels nice and soft but it should not be given into too many hands. i guess the moisture from hands seeps easily into it. this might in long term would ruin the print.
next paper is the hahnemühle photo luster. the paper seems to be more capable for handing around. it is not a high glossy paper but also not matte too. i would use this mostly for prints. for this test print i could use a color profile which is measured especially for b&w photos. the contrast here comes very close to the photo rag paper, but here as well … i can see a reddish tint. very close to the original, but in my opinion a bit far away from high quality b&w.
i'm using turboprint on linux for printing and the company behind the software offers a color profiling service. it is possible to measure for different types of profiles. with the hp advanced photo glossy paper i wanted to know the difference between a universal and a studio color profile, when it comes to b&w prints. comparing the two prints i would say that the universal color profile is more suitable for b&w photos. it feels not as high quality as i whish to have, but the print with the studio profile has a color tint – it's worse. however, the paper is glossy and i don't like this.
last paper is plane paper. … have a look by your own! … … … nope!!
conclusion, … not done with testing yet! i like the hahnemühle photo rag paper. should i try it again but this time with an accurate b&w color profile? 🤔