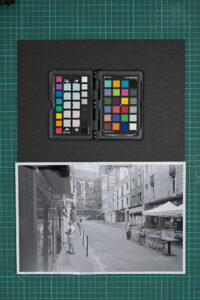 i wasn't pleased with the black&white prints that i lately made at home. some more investigations are needed for being able to print high quality black&white photos. the last time i printed on hahnemühler and hp advanced photo paper. i used different types of paper and for each paper a fine-tuned color profile. all of those prints came out somehow with color cast – i didn't liked that.
it should be truths that best print results can be expected if paper and ink is matched together. the printer i use is an epson ET4700 with epson ink. so let's print on epson premium glossy photo paper as well and see the results. in addition, i have a color profile for the hahnemühle luster photo paper dedicated for b&w prints. that's worth another comparison. at the end, i guess, only a professional print is then a perfect reference.
the epson premium glossy paper was used with a studio color profile and not a b&w profile. whereby, the luster paper is used with a dedicated b&w profile. both prints have a very slight color cast. i would say it goes towards red or brownish. this is more visible in the darker zones. the lighter zones are much closer to "real gray". i have to say, that the cast of the hahnemühle luster is a bit less in comparison to the epson paper. nevertheless, comparing the ink-jet prints to professionals ordered from a print service. there shouldn't be a color cast at all.
for the comparison i have ordered different types of paper from saal-digital and as expected, there is no color cast at all. so now i can see how high quality b&w prints should look like. 😅 but very revealing in addition is, how professional papers feels if holding them in the hands. every paper type i have printed with an ink-jet printer at home, feels always a bit sticky. if you pull your fingers strong on these prints, it squeaks and you would think that the ink would scratches off – which is not the case. but for instance you could really pull hard on the finart glossy paper from saal-digital without having that feeling or that sound. anyhow, the glossy is still a bit sticky. the portrait/silk paper from saal-digital is a matt paper and this is not sticky at all. i think the texture of this paper allows having sweaty hands too. it's texture is really very smooth, you need to look very close to recognize it.
Another order is printed on the artline paper. this paper has a coarser texture which is directly visible. the feeling holding it in the hands is very similar in comparison the the silk paper. but contrary to the silk paper is, that the texture is unsteady and doesn't feel artificial/not repetitive. a last point mentioned is that the "white" of the artline paper is different to the other photo papers and is not a bright white but warmer. together with its texture it gives a nice looking high quality, not glossy b&w photo.
a last print i couldn't resist to order. several times i heard something about baryta photo paper! … what is that?! if this paper seems to be special, i had to order it in a larger version.
same as the artline paper from saal-digital, it is not a bright but warmer white. it has also a texture, but this one is smoother in comparison to the artline paper. in additon, same as the artline paper it feels actually not as a photo but more as real or plane paper. it is not sticky, which i really like. i would think this paper is a special, because in comparison to all other papers the dark areas are much darker and shows more contrasts. it seems it has a higher dynamic range and therefore it comes closer to the original. i would rate this paper as semi-glossy, which might is related to its texture. i like this paper too!
to summarize, the quality of professional paper is far better than the one i'm able to print with the epson ET4700 printer. of course, there are better printers available which have for instance two different ink colors for black. more colors should help for better results. but those ink-jet printer are more expensive as well. in addition, i do not really like how sticky the ink paper feels. nevertheless, for cheap and fast test printing at home my current setup is far good enough. i'm always able to make some test prints at home before ordering them on more expensive high quality paper.